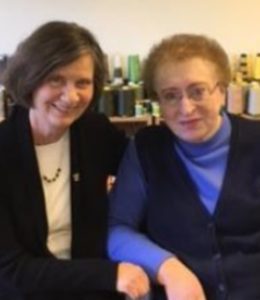 L to R: LVGW Tutor Elaine Tomlinson and former ESL student Tatyana Shvarts.
Tatyana came to the U.S. in the late 1990s from Russia at the age of 49.  She was a civil engineer; but due to her limited English, she realized that it would be unlikely that she would secure employment in that field in the U.S.  Instead, she studied English diligently and turned her hobby of sewing into a business, Tatyana's Tailoring & Alterations in Prospect.
Quick to express her gratitude to Elaine and LVGW, Tatyana says, "Elaine is not just a tutor to me–and there are a lot of good people working (at LVGW).  I want to say from the bottom of my heart, this organization is doing very good things, and it's very important."
Tatyana was selected as the recipient of the 2016 Literacy for Life Award. Elaine expressed her admiration for Tatyana in her congratulatory speech at the award presentation in April 2016:
"I had worked with Tatyana for almost 10 years–nearly every Monday– until about one and a half years ago. She was diligent in coming on her only day off from work unless snow, health, or a much-needed vacation to the Dominican Republic interfered.
Tatyana worked hard to improve her English so she could better live in her adopted country, the United States. I know she loves the freedom we all enjoy. We talked about it many times in comparison with Russia, her native land   Together, we studied the laws and history of our nation so she could become a citizen.   She and her husband did achieve that goal several years ago.
She always gave 100% at every lesson.  Her writing improved as evidenced by her contributions to the annual student writing event, "Hear My Voice." She always gave great thought to the topic she would be writing about so it would be interesting for those listening. As far as I can remember, there was not one year she did not submit a writing. Tatyana wrote about many topics, but I think my favorite was when she described her trip back to her home country of Russia after she became a citizen of the United States. She described how good it was to see friends and relatives again but also about the terrible smoke in Moscow from fires which resulted in severe illnesses for many people.   When she returned to the USA, she was so glad to be home, she kissed the ground.
Over the years, Tatyana and I became friends. We shared pictures of our families – our husbands, children and grandchildren. We both had much in common besides our love for our families. We both love the theater, good music and a vacation now and then. Tatyana works very hard at her tailoring business in Prospect, but she knows the value of having some time off to relax with family and friends. I think she is a wonderful example of someone who is living the American Dream.  I thoroughly enjoyed teaching Tatyana. And I am so proud of her for being named the recipient of the 2016 Literacy for Life Award."